What's on Robin's Easel This Month?

Barely begun, working title Yorke Line, and half done-as yet un-named, do you have a suggestion?

First, thank you for being here!

You possibly got a message in lue of a newsletter in August. Unfortunately someone choose to report my newsletter as spam, and well....I'm back but it took some jumping through hoops.

It's also been an interesting month on other fronts.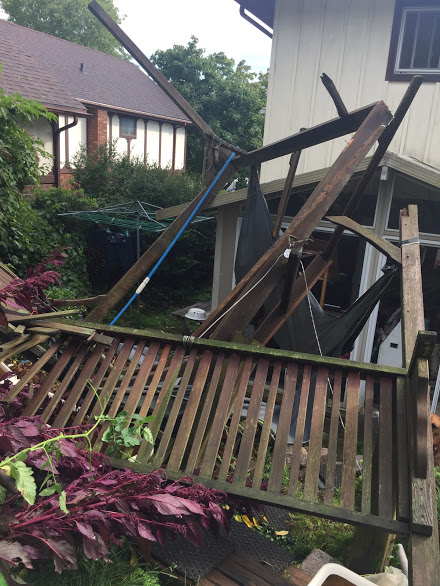 Yup yours truly had a little storm damage... The tornados in June and July missed us, but as they say three's the charm, and our gazebo ended up on top of our sunroom. We're still working with the adjusters, we're getting a new gazebo, and probably a new sunroom. I'm not sure how I feel about that.
Because it's 2020 we also found out the hard way that there's a back order for refrigerator parts, and new fridges.
To the ART news!

Most of you know that I present Art/Horticultural programing in Long Term Care. With the ongoing Covid Crisis, I'm not able to work in LTC and I miss my 'art-peeps' dreadfully. I know from my friends who work in recreation/lifestyle enrichment that the residents are suffering from the lack of programing too, the staff do the best they can, but they hire people like me to fill in the gaps.
So I'm pivoting......just like every other small business lol, and putting together project packages, for the staff and family caregivers to purchase and use with the residents. The website isn't live yet, but a link will be here
as soon as it's ready. I'm aiming for a Thanksgiving roll out.

Westland Gallery's square foot show is going November 18-December 24 and I have three pieces going in.


Spring Runoff, 12x12 glazed acrylic


Rill, glazed acrylic, 12x12

and the barely begun Yorke Line, in the first picture above, on my work table.

Also completed since we visited last is


Drumlin, 16x20, glazed acrylic, $360.00 go here to purchase

There will also be a mini show at the St Thomas Elgin Public Art Centre, November 14th to December 19th, that I'll have a few pieces in!

As always check out my website, follow me on FaceBook, and Instagram @robinbarattaartist and we'll keep in touch!
Stay safe, stay strong and above all, stay healthy!

Robin